Ahhhhh...I am so excited. This totally put a smile on my face. I am pretty new to the whole blog thing...but I am learning quickly and quickly getting addicted...lol. Comments and followers and awards mean so much to each of us. I love not only creating things but also sharing them with others.
I got to post this new badge on my sidebar...woo hoo...so Proud...lol.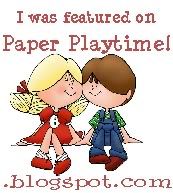 (click on Picture to go check it out)
I did not win the challenge but it felt so awesome to be featured
Also ...other great news for me, I did a Bloghop for the very first time ever on July 7,
it was the
Whimsical Wednesday Blog Hop
. It was so much fun...I loved all of the Banners the DT made. And I also won Blog Candy from this Hop which should be arriving soon...
I won the Doodlecharms Cricut Cartridge...Yay...from
Gigi over at the Cricut Bug.
I am so excited to be getting this cart. You really should go check out her blog and all of the designers for
Whimsical Wednesday
for that matter. So I am now positively hooked on blogging and blog hops and challenges too. I love-love-love it.
So on that note let me tell you about my latest blog candy win...Yay for me again!!!
it was a buch of fun too with lot's of cute projects, I won from Lisa at Designs of a Scrapaholic some awesome packs of Glitter Diecuts...thanks Lisa...how fun.
so now I need to get some creativity going this morning and I hope you all have a wonderful and crafty day...Hugs...Eva :0)