Welcome to Day 1 of Created By Cori's Favorite Quote Blog Hop!
In this hop, you will see projects featuring favorite quotes from many talented crafty ladies! We hope you enjoy our blog hop today!
If you came from
Miranda
, then you are in the right place!
Today's blog hop sponsor is Scraptastical Kreations. They are offering a $25 gift card to their online shop!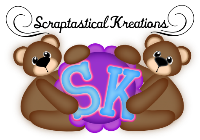 Simply leave a comment to be entered to win! You can have a second chance to win by leaving a message, letting us know you follow Scraptasical Creations on Facebook!
I used the Quote

"To Have Joy One Must Share It"
This was from a vellum stack of quotes I had. The cartridge I used for almost everything on this card is from the

Pink Journey

Cartridge. The card cut, the flowers, even the scallop cut out I added to the center of the front of the card. I also used lots of tiny pink brads to adorn the front.
I made a scallop frame to add inside to go around my sentiment stamp. The wavy border was added from my paper cutter.
This cute flower border was cut from the

Stamping Cricut Cartridge

. I cut it in Blackout and I used a fun Friends Forever stamp in the center of each. I created everything in my Cricut Craft Room and then cut it all on my awesome Cricut Expression 2.
I love the new Cricut Craft Room! I never had a gypsy so the ability to change and manipulate in the craft room are soooo wonderful to me!!! I was also able to link all of my cartridges to the Cricut Craft Room and now I never have to put my cartridge in the machine anymore, it has them all stored and cuts whatever I make just like that. Woo Hoo I love this feature. It will also cut from 2 or more different carts on the same mat. In Love with this program!!! Thanks Provo Craft!!!
Now for my Blog Candy:
You have two ways to win!!!!!
To win these goodies:
1 You must be a follower of this blog
2 Make a comment on my project here
(these first two are a must to be eligible to win)
For an extra chance to win a $10 Gift Certificate in my store at Creative Kuts2 where all files are only $3 everyday!!!
you must also do the following:
1 Visit our Fan page & Like the page, leave a comment that Eva sent you.
2 Visit my Store at Creative Kuts2 come back here and leave a 2nd comment saying your favorite file in the store.
If you do all of the above you win everything listed above!!!
Good Luck!!! If you have problems becomeing a follower, just refresh the page. (sometimes you have to do this several times when blogger is acting up)
Your next stop on the Favorite Quote Blog Hop is
Jackie
. Here is a complete list of the blog hop in case you get lost along the way:
SATURDAY
1. Cori-
http://www.createdbycori.blogspot.com
2. Ann Marie L.-
http://www.creativeramblings345.blogspot.com
3. Lori A -
http://www.scrappinmystressaway.blogspot.com/
4. Lucy -
http://love2createitall.blogspot.com
5. Ryan-
http://www.pieceandpaper.blogspot.com
6. Sabrina -
http://sabrinabellabeautiful.blogspot.com/
7. Lluvia -
http://www.sweetbirdmemories.blogspot.com
8. Jamie-
http://www.myamusinglife.blogspot.com
9. Miranda -
http://www.nanasscrapspot.com/
10. Eva
http://www.evasscrapsncards.blogspot.com/
11. Jackie
http://www.jackrabbitscrappin.blogspot.com/
Thank you for hopping along, we hope you have found lots of inspiration from our Favorite Quotes Blog Hop. Please come back tomorrow for day 2 and see even more great projects!